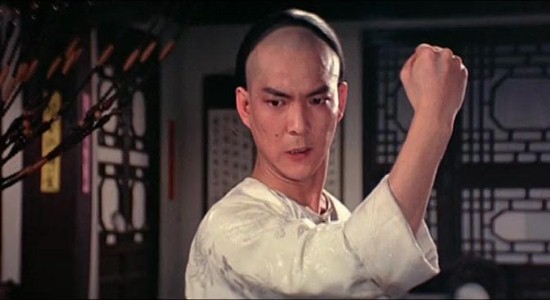 Nos anos '80, centenas de publicações de revistas americanas que tentavam traçar o passado de Bruce Lee, falavam sobre Ip Man. E os filmes da série "
O Grande Mestre
" fizeram dele a figura mais icônica do Ving Tsun (Wing Chun) para a cultura pop. Mas antes dele, o ancestral com mais publicações literárias e filmes a seu respeito era Leung Jaan. Que por acaso foi Si Gung de Ip Man (Ou, "
Mestre de seu Mestre
").
Na maioria de suas aparições cinematográficas, Leung Jan foi interpretado pelo talentosíssimo ator Yuen Biao(foto). Como vemos acima , na cena do filme de 1982 "The Prodigal Son" ou "Ba Ga Jaai".
In the '80s, hundreds of American magazines publications was trying to trace the history of Bruce Lee, spoke about Ip Man. And the movies from "Ip Man" series made him the most iconic figure of Ving Tsun (Wing Chun) to pop culture. But before him, the ancestor with more literary publications and films about him was Leung Jaan. Who happened to be Si Gung of Ip Man (Or, "Master of his Master").
In most of his film appearances, Leung Jaan was played by the talented actor Yuen Biao (photo). As we see above, in the 1982 movie scene "The Prodigal Son" or "Ba Ga Jaai".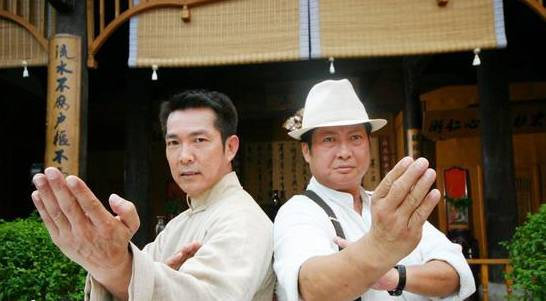 Em 2005, Yuen Biao ainda interpretou Leung Jaan na novela "Faat Saan Jaan Sing Sang" ("O senhor Jaan de Faat Saan"). Mas foi apenas em 2007, que sob convite de seu Si Hing Sammo Hung (foto) , Yuen Biao volta para sua interpretação definitiva e emocionante de Leung Jaan na novela "Wing Chun".
Com um ar muito mais maduro, e passando longe da comédia pastelão que sempre rondou suas perfomances como Leung Jaan , Yuen Biao nos apresenta um Si Fu de Ving Tsun consistente e que realmente lhe faz acreditar que Leung Jaan pudesse ter sido assim. Ainda que Nicolas Tse , que interpreta seu filho Leung Bik e Sammo Hung que interpreta Wong Wah Bo, quase tenham comprometido a novela com suas péssimas atuações.
In 2005, Yuen Biao still played Leung Jaan in the soap opera "Faat Saan Jaan Sing Sang" ("Mr. Jaan from Faat Saan"). But it was only in 2007 under the invitation of his Si Hing Sammo Hung (photo), Yuen Biao went back to his definitive and exciting interpretation of Leung Jaan in "Wing Chun" soap-opera.
With an much more mature play, and going away from the slapstick comedy that always prowled his performances as Leung Jaan, Yuen Biao gives us a Ving Tsun Si Fu consistent and that really makes you believe that Leung Jaan could have been that way. Although Nicolas Tse, who plays his son Leung Bik and Sammo Hung who plays Wong Wah Bo, have almost committed the show with their poor performances.
PRATIQUE VING TSUN KUNG FU NO RIO! AGENDE UMA VISITA:
BARRA-MÉIER-COPACABANA-CENTRO E FREGUESIA
(Meu Si Fu Julio Camacho e meu Si Baak Nataniel Rosa, ambos
Mestres Seniors da Moy Yat Ving Tsun na Vila natal de Leung Jaan)
(My Si Fu Julio Camacho and my Si Baak Nataniel Rosa, both
Masters Seniors of Moy Yat Ving Tsun in the native village of Leung Jaan)
Meu Si Fu esteve por mais de uma vez em Gu Lo , vila natal de Leung Jaan. Leung Jaan se tornou tão celebrado desta forma, pois mesmo não sendo de Faat Saan(Fo Shan), sua habilidade marcial era tamanha, que recebeu vários apelidos que na verdade eram honrarias: "Senhor Jaan de Faat Saan", "O Rei do Ving Tsun", "O punho de Faat San" , etc.. etc...
Para se ter uma ideia, é como se um jogador argentino, se tornasse por um período a grande referência para os fãs de futebol no Brasil enquanto ele vivesse em nosso país.
My Si Fu spent more than once in Gu Lo, home village of Leung Jaan. Leung Jaan became so celebrated in this way, because although not being a native citizen of Faat Saan(Fo Shan), his martial prowess was such that received several nicknames that were actually honors, "Mister Jaan from Faat Saan", "The King of Ving Tsun, "" Fist of Faat Saan ", etc .. etc ...
To give you an idea, it's like an Argentinian soccer football player (what americans call "soccer"), became for a time the greatest reference to football fans in Brazil while he lived in our country.
Porém, mais do que sua habilidade marcial, o que fez de Leung Jaan também muito conhecido, era a forma com que exercia sua profissão de médico-farmacêutico , que inclusive teria sido o fator que levaria Leung Yi Taai , a aceitá-lo como discípulo e transmitir o legado do Ving Tsun.
Leung Jaan cuidava das pessoas necessitadas sem cobrar nada, apenas cobrava pelos serviços as pessoas que tinham condições de pagarem por eles.
Na novela de 2007, vemos como essa atitude acaba por comprometer as finanças de sua Família.
But more than his martial skill, which made Leung Jaan also very well known, was the way he exercised his profession of medic-pharmacist, who also would have been the factor that would lead Leung Yi Taai, to accept him as a disciple and transmit the legacy of Ving Tsun.
Leung Jaan took care of those in need without charge, only charged for the services people who could afford to pay for them.
In the 2007 soap-opera we see how this attitude ends up compromising the finances of his family.
Acontece que mesmo sendo solicito aos mais necessitados quando se tratava de medicina, com o Ving Tsun não acontecia o mesmo: Leung Jaan teria sido extremamente rigoroso no aceite de seus discípulos, que em toda sua carreira somaram apenas seis pessoas. Sendo a última o Si Fu de Ip Man, Chan Wah Sun, que conseguiu fazer parte do grupo apenas depois de muita insistência de Fung Wah .seu amigo que já fazia parte da Família Kung Fu de Leung Jaan.
It turns out that even being nice to the needy when they came to medicine, with Ving Tsun did not happen the same: Leung Jaan would have been extremely strict in acceptance of his disciples, who throughout his career totaled only six people. The latter being the Si Fu of Ip Man, Chan Wah Sun, who managed to join the group only after much insistence by Fung Wah .your friend who was already part of the Family Kung Fu of Leung Jaan.
Um grupo internacional de cientistas que trabalham no projeto "TCM Cancer", financiado pela União Europeia (UE), acaba de descobrir 100 compostos anticancerígenos em plantas e ervas usadas na Medicina Tradicional Chinesa.
O objetivo agora é utilizar essas substâncias para desenvolver tratamentos mais eficazes contra o cancro que possam substituir a quimioterapia, que provoca efeitos secundários graves.
"A maioria, se não todos, os fármacos usados na quimioterapia têm efeitos secundários graves, que podem afetar as células saudáveis, bem como funções essenciais do corpo," explica André Steinmetz, do Centro de Pesquisas Públicas de Saúde, no Luxemburgo, e líder do projeto.
"Por isso a procura e o estudo de novos compostos que matem especificamente as células cancerígenas, mas não têm efeitos secundários, ainda são necessários", frisou o responsável.
O projeto "TCM Cancer" tem como foco sobretudo a identificação e caracterização de compostos usados na Medicina Tradicional Chinesa e que podem atuar contra os cancros da mama, pulmão e cérebro.
Fontes: Diário da Saúde
An international group of scientists working on the project "TCM Cancer", funded by the European Union (EU), has just discovered anticancer compounds in 100 plants and herbs used in traditional Chinese medicine.
The objective now is to use these substances to develop more effective cancer treatments that can replace chemotherapy, which causes severe side effects.
"Most, if not all, of the drugs used in chemotherapy have serious side effects, which can affect healthy cells as well as essential functions of the body," explains André Steinmetz fromthe Centre for Health Public Research in Luxembourg and leader of the project.
"So the search and study of new compounds that specifically kill cancer cells but have no side effects, are needed," said the guardian.
The "TCM Cancer" focuses mainly on the identification and characterization of compounds used in traditional Chinese medicine and that may act against cancers of the breast, lung and brain.
Sources: Health Diary
PRATIQUE VING TSUN KUNG FU NO RIO! AGENDE UMA VISITA:
BARRA-MÉIER-COPACABANA-CENTRO E FREGUESIA
A Disciple of Master Julio Camacho
Thiago Pereira "Moy Fat Lei"
moyfatlei.myvt@gmail.com