Talvez você seja muito novo para lembrar o impacto que Ayrton Senna causou no esporte brasileiro entre as décadas de 80/90. Mas esse é um verdadeiro herói nacional. Dentro e fora do esporte, unanime!
Talvez o povo tenha simpatia por Senna,pelo simples fato, de que ele quebrava o estereótipo do piloto de Formula 1. Ele não era alguém com porte de quem nasceu em berço de ouro, alguém que se importava com patrocinio ou baixava a cabeça para estrangeiros. Ele competia para vencer, ele perdia a paciência quando o carro quebrava ou alguem o fechava,ele trabalhava depois da hora com mecanicos enquanto os pilotos mal davam "bom dia" a esses profissionais, ele falava em superação, e nunca desistia....
Maybe you're too young to remember the impact that Ayrton Senna caused on Brazilian sports between the 80's /90's . He is a true national hero. Inside and outside the sport, unanimous!

Maybe the people have sympathy for Senna, for the simple fact that he broke the stereotype of the Formula 1 pilot. He was not someone with a way like those born with a silver spoon, someone who cared about sponsorship or ready to bow to foreigners. He competed to win, he lost patience when the car broke or someone drive on him to make he loose the car control, he worked after time with mechanical and engineers while the pilots never said a single "good morning" to these professionals, he spoke about keep going, and never give up

....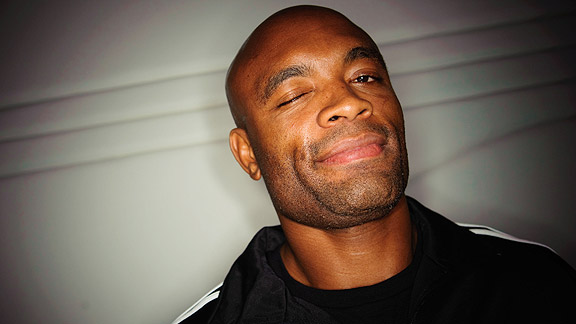 Anos mais tarde, parece que um novo homem chega para quebrar os paradigmas do esporte em que atua: Anderson Silva.
Years later a new man rises in Brazilian sports breaking the paradigms of his sport:
Anderson Silva
Diferente do que vimos principalmente nos anos 90 com relação ao MMA: Caras fortões, expressão de mau, orelhas deformadas, rostos com hematomas, e discurso agressivo. Anderson Silva está sempre sorrindo, falando de Família, vestindo roupas que passam longe do estereótipo do "Lutador de MMA" e principalmente: fazendo tudo com humildade nas palavras e ações. Momentos em que quase esquecemos a intensidade do esporte que pratica.
Unlike what we saw at 90's in relation to the MMA: Strong dudes, bad-boy facial expressions , deformed ears, faces bruised and aggressive speech. Anderson Silva is always smiling, talking about family, wearing clothes that are far from the stereotype of the "MMA Fighter" and principally: doing everything with humility in words and actions. Times when we almost forgot the intensity of sport he is practicing.
O EFEITO BRUCE LEE:
THE BRUCE LEE EFECT:
O único Mestre formal de Bruce Lee foi Ip Man(foto) a quem este reconheceu até sua morte como tal. Porém, para o mundo, a imagem que ficou foi a do Bruce Lee invencivel, que tirava a camisa para lutar, com corpo musculoso e que lambia o próprio sangue quando alguém o machucava.
The only formal Master that Bruce Lee (pictured), whom he recognized as such until his death was Ip Man. However, for the world, the image was that Bruce Lee was invincible, a man who took his shirt to fight with muscular body and licked his own blood when someone hurt him.
E enquanto o mundo tirava suas camisas assim como Bruce para lutar, poucos antes desse furor, Ip Man(foto ao lado), o Si Fu de Bruce Lee, era um homem que no século 20, parecia muito mais com o novo artista marcial que surge no século 21:
Alguém sem estereótipos
do "Mestre de Kung Fu"
como vemos em filmes como "KILL BILL Vol. 2" a representação caricata de Pai Mei.
And while the world took off their shirts to fight like Bruce, just before this furor, Ip Man (pictured left), Si Fu of Bruce Lee was a man who in the 20th century, seemed much more with the new martial artist who arises in the 21st century: Someone without stereotypes of a "Kung Fu Master" as we see in movies like "Kill Bill Vol 2" with a caricatured representation of Pai Mei.

Discipula de Mestre Julio Camacho com Anderson Silva:
"O acessível pela falta de cara"
Master Julio Camacho´s Disciple with Anderson Silva:
"The Accessible by the non-stereotype"
Xenia D'avila "Moy Sing Yat" , é discípula de Mestre Julio Camacho. Ela trabalha como produtora, e assim como eu, é uma aficcionada por filmes, seriados, etc... E quando em 2004 procurou a Moy Yat Ving Tsun depois de assistir KILL BILL, confessou que ficou frustrada em conhecer Mestre Julio Camacho. Pois esperava um senhor chinês com barbas compridas e fala enigmática...rs
Xenia D'avila "Moy Sing Yat", is a disciple of Master Julio Camacho. She works as a producer, and like me, is an enthusiastic about movies, TV series, etc ... And when in 2004 sought the Moy Yat Ving Tsun after watching KILL BILL, confessed that she was frustrated to know Master Julio Camacho. She expected a Chinese oldman with long beards and enigmatic speech ... lol
Xenia com o tempo
entendeu que a falta de estereotipia em seu Mestre, é o que o torna acessível a qualquer praticante.
Tanto aos fãs de KILL BILL como todos os demais.
E assim é Anderson Silva, um homem que se tornou acessível a crianças e homens e mulheres, exatamente por "
não ter cara
". Pois ainda que seja lutador profissional e uma lenda viva do esporte que pratica. Anderson poderia ser um professor, um empresário, um biólogo, um segurança, etc etc...
Exatamente por não "ter cara" , ele se parece com todos nós...
Xenia with time understood that the lack of stereotypy in his Master, is what makes him accessible to any practitioner. Both: fans of Kill Bill as everyone else.
And so is Anderson Silva, a man who became accessible to children and men and women, just because he looks like any brazilian even being a professional fighter and a living legend of the sport he practices. Anderson could be a teacher, a businessman, a biologist, security guy, etc etc ...
Just 'cause he has "No face", he looks like all of us ...
E há algumas semanas Anderson Silva postou em seu twitter, duas menções a Ip Man. O que não causou surpresa, pois Ip Man, assim como outros seletos mestres de outras artes, representa esse "algo a mais" nas artes marciais, que vai além de "
socos e chutes
"...
Some weeks ago, was no surprise to read Anderson talkin´ about Ip Man on his twitter. 'Cause like some just few Masters from other sects, Ip Man represents something beyond the "punches and kicks" in his way of living his life...
"A real Master , a great wise man: Yip Man" - wrote Anderson in his twitter.
"Master Yip".
Depois disso, no site GLOBO.COM, Anderson Silva falou durante entrevista sobre ter praticado
Fica aqui nossa torcida para que mais profissionais de MMA, tenham este estilo de postura, que no fundo ajudará o próprio esporte a ser melhor aceito pela sociedade.
After that, Anderson gave an interview for a Brazilian cable Tv channel where he taked about had have practiced Ving Tsun. (CLICK
HERE
)
The Peartree´s Blog hopes to know more professionals in MMA like Anderson: Gentle guys , 'cause a fighter does not have to be humble.
Escreveu o Discipulo de Mestre Julio Camacho

Thiago Pereira da Silva
(Diretor do Nucleo Meier da Moy Yat Ving Tsun)
moyfatlei.myvt@Gmail.com
TWITTER: @moyfatlei
www.moyfatlei.blogspot.com